Click on any of the conference areas in the image or list below to view detailed information about the room.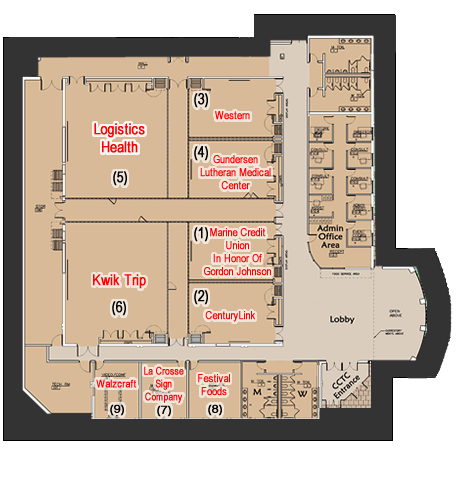 Marine Credit Union In Honor Of Gordon Johnson (1)
CenturyLink (2)
Western (3)
Gundersen Lutheran Medical Center (4)
Logistics Health (5)
Kwik Trip (6)
La Crosse Sign Company (7)
Festival Foods (8)
Walzcraft (9)
Combo Rooms/Larger Meeting Areas
Several of the areas above can be combined into larger meeting areas. Click on any of the links below for details.
Founder's Hall (Rooms 1-6)
Conference Hall West (Rooms 3, 4, 5)
Conference Hall East (Rooms 1, 2, 6)
Combo Room West (Rooms 3, 4)
Combo Room East (Rooms 1, 2)