CCAF General Education Mobile (GEM) at Western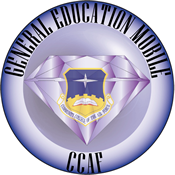 Western Technical College is proud to partner with the Community College of the Air Force to help Airmen complete their CCAF Degree's General Education requirements.
Participating in the General Education Mobile (GEM) enables students to complete up to 15 credits at Western that transfer toward the general education requirements of their CCAF degree providing greater educational continuity and faster completion of an airman's associate's degree.
Airmen must develop a CCAF education goal in the Air Force Virtual Education Center (AFVEC) and request Tuition Assistance (TA). 
Why Western Technical College?
Quality online courses meeting CCAF standards and degree completion requirements.
Small college that provides one-on-one assistance and advising to all students, not just the ones on campus.
Award prior learning credit for learning gained through military experiences and years of service.
Offer AAS programs that can be completed beyond your CCAF degree!
Steps to Enroll

Class Search
Search our online database for classes by keywords, program, credit or non-credit.
For example, if you're looking for available math classes, type "math" as the keyword, select "Credit" under the Program drop-down menu, and "General Education" under the College drop-down menu.
Academic Calendar
Oral Communication
10801198 Speech
10801196 Oral/Interpersonal Communication
20810201 Fundamentals of Speech
Written Communication
10801195 Written Communication
20801201 English I
Mathematics
20804240 Basic Statistics           
Social Science
10809196 Introduction to Sociology
20809203 Principles of Sociology
10809195 Economics
10809172 Introduction to Diversity Studies
20809202 Social Problems
20809231 General Psychology
20809204 Marriage and Family
10809199 Psychology of Human Relations
20809221 American National Government
Humanities
20809260 Introduction to Philosophy
20815200 Introduction to Art History
20805227 Music Appreciation
10809166 Intro to Ethics: Theory & Application
Student Success Center, Room 122
400 7th Street North
Manager, Veterans Services/SCO
Student Success Center, Room 122
400 7th Street North