Campus Community Safety Office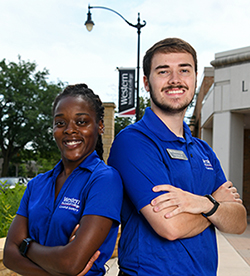 Our goal is to promote a safe and welcoming environment to improve the quality of campus life for everyone learning and working at Western Technical College. We do this by working in partnership with the campus community to provide the most professional and effective safety services possible. Our dedicated staff work 24/7, actively patrolling the La Crosse Campus.
The Campus Community Safety Office can be reached anytime by calling or texting 608-785-9191. You can also call 59191 on a campus phone. In addition, you can visit our office in Coleman Center Room 131 during regular business hours.
How can we help?
We're here for you! Just look for our blue shirts with the Campus Community Safety emblem. You'll see us all across the La Crosse campus. If you would like a safety escort to your vehicle, witness a concerning situation, or simply have a question, let us know. Your security on campus is our priority.
When life-threatening emergencies occur, call 911 and then follow-up with us.
Campus Community Safety Office
Coleman Center Room 131
617 Vine Street