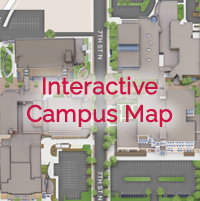 Western is positioned to meet the educational needs in our 11-county district with a main campus and four additional facilities in La Crosse; regional locations in Black River Falls, Independence, Mauston, Tomah, and Viroqua; and a Public Safety Training Facility and College Prep and Transitional Education Center in Sparta.
View our Interactive Campus Map to experience what Western has to offer or for directions to any of our facilities. Watch this video to learn how to use the Interactive Map.
---
Parking on Main Campus
Parking permits are required for the lots on the La Crosse main campus. There are a variety of permit options available. Learn more about parking permits at Western. 
In the summer of 2019, the City of La Crosse implemented pay-by-phone parking on several streets surrounding Western. With this program, anyone planning to park on these streets pays $1 per hour using a smartphone app with a limit of four hours parking in each block. Please be aware of these rules before parking on City streets near the Western campus. View our parking map for more information.
Paying Parking Citations
If you receive a parking citation in a Western parking lot, you can pay it online at www.westerntc.edu/pay-ticket. Citations issued on the streets by the City of La Crosse need to be paid to the City.
Parking Appeals
If you feel you have received a parking citation (ticket) in error, you may have grounds to appeal the citation to the Parking Appeals Board. ​To appeal a parking citation, you must submit an online appeal form within 15 calendar days of the date the citation was issued. View our parking appeals page for more information.
---
Regional Locations
Find out more about our Regional Locations and additional facilities.
---
Tobacco-Free Campus
All Western Technical College campuses and grounds, including district-owned and district-leased property, are tobacco free. Tobacco use is prohibited inside all college owned and leased vehicles, buildings, grounds, and parking lots.