Technical Diploma
This technical diploma is designed to provide you with the skills to move into a leadership position. You will work on developing the interpersonal skills that effective managers and supervisors possess. Project-based learning activities include team building, managing workplace diversity and change, problem solving, human resource management, supervisory and leadership skills. Also included will be safety and loss prevention, which are key responsibilities of a supervisor.
This 12-course program is intended for individuals already in the workplace, with classes offered online or in the evening, and the option to complete in one or two years. You may also choose to complete the six-course Leadership Essentials technical diploma or the Leadership Development associate's degree.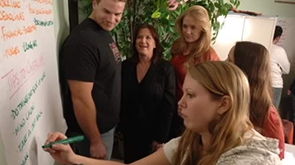 Management Analyst
Administrative Services Manager
Team Leader
Supervisor
Department Manager
Warehouse Manager
Living responsibly
Refining professionalism
Cultivating passion
Most of Western's classes require the use of a personal computer or laptop, standard software, internet access, and other technology-related items.
If you do not have a personal computer or laptop, or if the one you have does not meet the following criteria, resources may be available. Submit a Student Resource Request using our online form.
Computer/Laptop Hardware
Smartphones are not recommended for completing assignments.
Chromebooks are not recommended due to issues with installing software that is needed for classes, such as Office 365.
Web camera with microphone (usually built into newer laptops or can be purchased separately) is necessary for online participation.
Software Needs
For detailed specifications, please review Technology and Software Recommendations for Most Classes on Western's IT Knowledgebase.
Campus Resources
Need Assistance?
Contact the Learning Commons! The staff are happy to answer questions, provide individualized assistance, and direct you to other supports as needed.