Technical Diploma
Not Financial Aid Eligible
As an Emergency Medical Technician (EMT), you're on the front lines providing lifesaving care to people in need. You'll learn how to assess a patient's illness or injury, render aid, and use proper procedures and precautions when treating a patient. This 180-hour course covers all the situations you are likely to encounter as an EMT, including emergency childbirth, airway obstruction, bleeding, fractures, shock, heart attack and stroke, and other medical emergencies, as well how to stabilize and safely transport the patient to a medical facility.
Although most EMTs work for ambulance services, fire departments and hospitals also employ them.
Students are required to take a practical and written exam to become nationally registered, and then apply for a license to work as EMTs in Wisconsin. Continue your education to earn a technical diploma or associate's degree for further job opportunities and earning potential.
The Emergency Medical Technician course is offered in a variety of ways. Learn more about your options.
To view the Emergency Medical Technician - Basic program's required disclosure on professional licensure, please click here.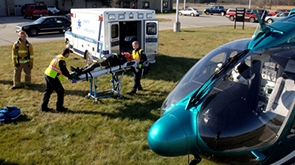 EMT-Basic
Emergency Medical Technician
Living responsibly
Refining professionalism
Cultivating passion
Prepare for incident response and EMS operations
Integrate pathophysiological principles and assessment findings to provide appropriate patient care
Demonstrate EMT skills associated with established standards and procedures for a variety of patient encounters
Communicate effectively with others
Demonstrate professional behavior
Meet state competencies for EMT certification
Program Requirements
Western Technical College uses ACCUPLACER, a computer-based, online assessment that measures your abilities in reading, sentence skills, and arithmetic. This information will be used to place you in courses that best fit your academic goals. Based on your scores, you may need to take additional general studies course(s) along with the general studies courses required for your program.
Several options for waiving the ACCUPLACER test are available; view the waivers here.
Learn more about placement tests and how they are used at Western: Placement Testing.
Additional Requirements
To enroll in the Emergency Medical Technician – Basic program, first apply for admission to the College, then read the program's Essential Functions, complete a background check, provide proof of immunization (including a TB Test*), read and return a signed copy of the supplemental information document, and complete American Heart Association BLS Healthcare Provider CPR certification. You can find links to these document below.
American Heart Association BLS Healthcare Provider CPR Certification

* Tuberculosis (TB) Test - One of the following is required:
Two step TB skin test (1-3 weeks apart) OR
Two consecutive annual tests (no more than 12 months between tests) OR
QuantiFERON Gold blood test (lab report required) OR
If positive results provide a lab report or physician verification of a clear chest x-ray.
COVID-19 Vaccination Status 
COVID-19 vaccination is not required to attend classes at Western Technical College, however some clinical sites who contract with Western for student rotations now have COVID-19 vaccination requirements. To prevent any potential interruption in your clinical/practicum/field classes, we are now requiring you to provide us with your COVID-19 vaccination status in order to plan for clinical rotations.
Our Health and Public Safety programs are required to report additional information to prospective students, including certification exams, licensure, program completion rates, etc. You can find this information in the documents below: