Technical Diploma
Helping students succeed in the classroom is challenging as well as rewarding. Our technical diploma program will prepare you to work in the classroom and provide needed support for the teacher. You will likely work with special education students implementing goals of an Individual Education Plan and adapting instruction to meet student needs. Other duties may include setting up displays, grading assignments, providing one-on-one instruction, playground and lunchroom supervision. The primary focus of the technical diploma is behavior management, developmentally appropriate practices, and special education.
By law, all school employees working in the school setting with students must have a minimum of 48 credits beyond a high school diploma to be considered highly qualified. This program ensures that our graduates meet these standards. Educational assistants with a technical diploma are in high demand in our schools, and area districts depend on Western to provide this training.
Program graduates are employed by area school districts as special education paraprofessionals or health office paraprofessionals who work directly under the supervision of a registered nurse. These positions are available in elementary, middle school, and high school special education classrooms. The program comprises the first year of the Foundations of Teacher Education associate's degree.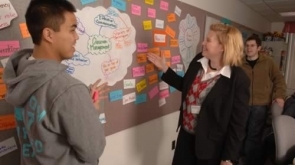 Educational Assistant
Special Education Assistant
Special Education Paraprofessional
Program Assistant
Instructional Assistant
Living responsibly
Refining professionalism
Cultivating passion
Demonstrate instructional support strategies for content areas
Implement developmentally appropriate practices to foster learning
Adapt instruction to meet the diverse needs of all learners
Use proactive classroom management techniques
Perform professional responsibilities
College Requirements
High School or GED/HSED Transcript
Additional Requirements
To enroll in the Educational Assistant Technical Diploma program, first apply for admission to the College, then read the program's Essential Functions and complete a background check. You can find links to these documents below. The last step for admission to the program will be to complete an Intent to Enroll form. Please see the details below.
Contact the Welcome Center to make an appointment with an Admissions Coach to complete your Intent to Enroll form.
Most of Western's classes require the use of a personal computer or laptop, standard software, internet access, and other technology-related items.
If you do not have a personal computer or laptop, or if the one you have does not meet the following criteria, resources may be available. Submit a Student Resource Request using our online form.
Computer/Laptop Hardware
Smartphones are not recommended for completing assignments.
Chromebooks are not recommended due to issues with installing software that is needed for classes, such as Office 365.
Web camera with microphone (usually built into newer laptops or can be purchased separately) is necessary for online participation.
Software Needs
For detailed specifications, please review Technology and Software Recommendations for Most Classes on Western's IT Knowledgebase.
Campus Resources
Need Assistance?
Contact the Learning Commons! The staff are happy to answer questions, provide individualized assistance, and direct you to other supports as needed.
Our Health and Public Safety programs are required to report additional information to prospective students, including certification exams, licensure, program completion rates, etc. You can find this information in the document below: