Technical Diploma
Gain a strong foundational understanding of business management as well as enhanced skills in leadership, business communication, critical thinking, and problem solving with Western's Business Specialist technical diploma. This program emphasizes fundamental business knowledge through exposure to broad areas such as human resources, finance, marketing, and business law.
You'll walk away with relevant skills and abilities to achieve your professional and personal goals. This technical diploma program is a pathway to the Business Management associate's degree for those who are interested in further advancement. Courses are offered entirely online or in a blended format that combines classroom and online learning.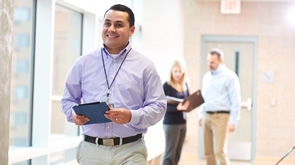 Administrative Officer/Specialist
Business Manager
Business Administrator
Living responsibly
Refining professionalism
Cultivating passion
Implement operational plans across functional areas
Direct processes related to making products or providing services
Direct individuals to meet organizational goals
Coordinate activities to meet organizational goals
Most of Western's classes require the use of a personal computer or laptop, standard software, internet access, and other technology-related items.
If you do not have a personal computer or laptop, or if the one you have does not meet the following criteria, resources may be available. Submit a Student Resource Request using our online form.
Computer/Laptop Hardware
Smartphones are not recommended for completing assignments.
Chromebooks are not recommended due to issues with installing software that is needed for classes, such as Office 365.
Web camera with microphone (usually built into newer laptops or can be purchased separately) is necessary for online participation.
Software Needs
For detailed specifications, please review Technology and Software Recommendations for Most Classes on Western's IT Knowledgebase.
Campus Resources
Need Assistance?
Contact the Learning Commons! The staff are happy to answer questions, provide individualized assistance, and direct you to other supports as needed.