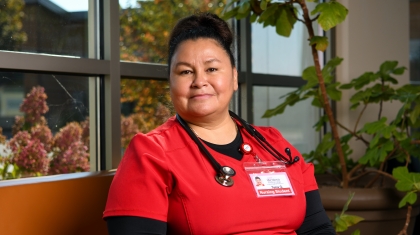 LA CROSSE, Wis., April 6, 2023 – Western Technical College Nursing student Tena Quackenbush was recently selected as one of eight 2023 DREAM Scholars from Achieving the Dream, a network of colleges committed to making higher education more accessible, equitable, and possible for all students.
Originally from Black River Falls and a member of the Ho-Chunk Nation, Quackenbush fell into drug addiction in the United States Marines following the death of her brother. Following her recovery, she started #StopTheStigma, an organization designed to help and support those with drug addiction. Now more than a decade into recovery, she enrolled in Western's Nursing program in order to give back to her community. She was chosen as a DREAM Scholar because of her drive for success and willingness to share her story and how Western has supported her along her journey.
"The fact that Western was able to provide support for me in my time of need, is really special," said Quackenbush. "It was a lifesaver, and I am very proud of the school. I am so proud to represent this college at a national level."
"She is a compassionate, thoughtful individual who cares about her community," said Western President Roger Stanford. "She is an inspiration to others and demonstrates the best of what Western students have to offer."
During Achieving the Dream's annual conference in February, Quackenbush spoke to 2,200 technical and community college experts. She received a $3,500 scholarship and shared her educational experience while attending sessions on improving student success and closing equity gaps for historically underserved student populations.