Associate Degree
This program is designed to provide you with the skills needed to enter the growing field of mechatronic and robotic systems. Highly paid technicians in this field are responsible for setup, troubleshooting, repairs, and modifications of programs in a wide array of computer-controlled industrial and manufacturing operation.
Competent mechatronic and robotic system technicians possess the skills to tackle the complexity of equipment used in a variety of advanced manufacturing applications. These skills include experience with sensors, Programmable Logic Controllers (PLC-Industrial Computers), Human Machine Interfaces (HMI-Touch Screens), motors, motor drives, and robotics.
Additional coverage of Industry 4.0 topics such as Smart Sensors, SCADA (Supervisory Control and Data Acquisition), and machine vision systems will prepare you for both an intellectually and financially rewarding career in this field.
You may also choose to continue your education with engineering bachelor's degree transfer options. See the program transfer agreements information for more details.

This material is based upon work supported by the National Science Foundation under grant no.1801063. Any opinions, findings, and conclusions or recommendations expressed in this material are those of the author(s) and do not necessarily  reflect the views of the National Science Foundation.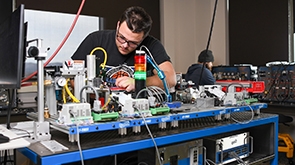 Robotics Technician
Maintenance Workers, Machinery
Electrical and Electronic Engineering Technicians
Electro-Mechanical Technicians
Industrial Engineering Technicians
Advanced Manufacturing Technician
Test Engineering Technician
Technical Specialist
Manufacturing Engineering Technician
Maintenance Electrician
Industrial Electrician
Living responsibly
Refining professionalism
Cultivating passion
Perform work safely
Troubleshoot electrical and mechanical systems and devices
Communicate technical information
Integrate automation and mechanical control systems
Most of Western's classes require the use of a personal computer or laptop, standard software, internet access, and other technology-related items.
If you do not have a personal computer or laptop, or if the one you have does not meet the following criteria, resources may be available. Submit a Student Resource Request using our online form.
Computer/Laptop Hardware
Smartphones are not recommended for completing assignments.
Chromebooks are not recommended due to issues with installing software that is needed for classes, such as Office 365.
Web camera with microphone (usually built into newer laptops or can be purchased separately) is necessary for online participation.
Software Needs
For detailed specifications, please review Technology and Software Recommendations for Most Classes on Western's IT Knowledgebase.
Campus Resources
Need Assistance?
Contact the Learning Commons! The staff are happy to answer questions, provide individualized assistance, and direct you to other supports as needed.