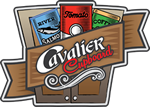 Western Technical College Community Engagement oversees the Cavalier Cupboard. This food pantry is designed to meet the immediate food needs of Western students by providing them with access to non-perishable food items, hygiene items, and information on local resources. On the last Wednesday of each month, the Cupboard also gives away seasonal, fresh produce during regular cupboard hours. This service is open to all Western students with a valid student ID number. Individuals may visit once per week and will be able to select product, filling two bags of food per visit, depending on household size. It is staffed by volunteers and student leaders.
Location
The Cavalier Cupboard is located on the second floor of the Integrated Technology Center, La Crosse campus (on the left before the skywalk).
Cavalier Cupboard Hours
Fall and Spring Terms: Tuesdays, 2:00-4:00 p.m. and Wednesdays, 11:00 a.m.-1:00 p.m.
Summer Term: Wednesdays, 11:00 a.m.-1:00 p.m.
The Cavalier Cupboard is affiliated with the Hunger Task Force of La Crosse.
Non-perishable Food and Hygiene Items Donations
The cupboard does accept most non-perishable donations, but could specifically use basic, nutritional items. A list of needs can be found on our needed food list. Donations can be dropped off at the following locations:
Academic Resource Center, Learner Support Services
Business Education Center Office, Business Education Center, Room 105
Integrated Technology Center, Outside the Cupboard, 2nd floor by the vending machines
Multicultural Affairs Office, Academic Resource Center, Room 232
Student Union, next to the ATM
Welcome Center, Front Desk
Monetary Donations
Cash or check donations can be dropped off at the Community Engagement Office located in the Academic Resource Center, second floor, or make your donation online. All monetary donations are tax deductible.
Volunteers are always needed to stock and operate the Cavalier Cupboard. You can sign up for a few hours or for a regular schedule of hours.
Integrated Technology Center, 2nd Floor
325 8th Street North