Emily, Western Human Services Graduate,'21
Emily's Story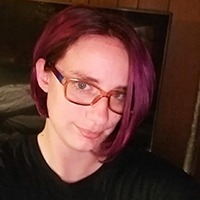 Emily, of West Salem, Wis., is a single mother of a wonderful, high-functioning autistic boy who is nine years old. Emily recently purchased her first home; she and her son live with their two dogs and one cat, conveniently across the street from her parents. Currently, her most significant challenges are single parenthood and balancing work, school, and home life—difficult juggling, but very much worth it. 
Emily's story is still unfolding; she's squarely in the middle of the Western-Viterbo transfer experience. Emily is graduating this spring with high honors from Western's Human Services program. While finishing her studies at Western, she also works as a paraprofessional, a job she adores, at a school called Driftless Pass. Driftless Pass is a private institution that accommodates children who have needs beyond what a traditional school can provide. Students at Driftless Pass often display challenging behaviors due to developmental disabilities, mental health needs, childhood trauma, seizure disorders, Reaction Attachment Disorder, and more. All employees at this school must have certification in Non-Violent Crisis Prevention and Intervention (CPI) in addition to CPR and first aid certification.
Emily intends to work with special needs children. She comes from a family of noble social workers, most notably, her mother. Initially, she thought an associate degree from Western would be acceptable—enough to get her foot in the door. But Viterbo's co-admission plan was very enticing. Deciding on a school with a social work degree was paramount. For Emily, the final deciding factor was the Viterbo co-admission scholarship. It's official, Emily's goal after graduation is to continue her education at Viterbo, a double major in psychology and social work. Her Human Services instructors helped her start the transfer process.
For Emily, the process was smooth, and there was always plenty of help at both schools. Her Human Services instructors ensured that Viterbo representatives spoke to the class about the transfer option and what was available after graduation. Emily says, "The process was easier than I expected, and it couldn't have gone better. Taylor Hanson, Western Transfer Advisor with Viterbo (located on Western's campus), is impressive. He was always prompt to answer any questions and made sure I had everything I needed, and then some, while registering!
Emily's consensus is that Western and Viterbo work very well together in a symbiotic way with exceptional, quick, and transparent communication! She will have her Viterbo class schedule set soon and already has her Viterbo school ID, allowing immediate use of academics resources and library and tutoring access.
Emily is graduating from Western the day after she turns 30! She is confident that Western prepared her academically to continue her program classes. Other Western-Viterbo students assure Emily that Western fully prepares their students for the next academic step. Emily is planning on a fulfilling career caring for others, a truly noble, kind, and enviable pursuit.