Technical Diploma
As a diesel and heavy equipment technician, you'll help keep business and industry moving by diagnosing and repairing diesel engines, heavy trucks, and heavy equipment. Our hands-on program covers the power trains, electrical/electronic systems, chassis systems, brakes, and hydraulics of this equipment. Students learn the latest technology used in the industry. Our interdisciplinary approach draws from welding and general studies to provide a solid background for entry into the field through applied, general, and specialized training. Most students compete the course in 21 months. Graduates have excellent career opportunities in a secure and rewarding field.
Classes are held at Western's state-of-the-art Truck and Heavy Equipment Facility, located in La Crosse's industrial park, 2719 Larson Street. Check our interactive map for specific location information.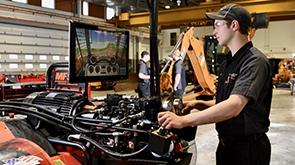 Diesel Technician
Diesel Mechanic
Field Service Technician
Fleet Mechanic
Heavy Equipment Mechanic
Living responsibly
Refining professionalism
Cultivating passion
Diagnose major systems in diesel and heavy equipment industry
Repair major systems in diesel and heavy equipment industry
Service major systems in diesel and heavy equipment industry
Practice personal and professional work habits
Document complaint, cause and correction
Most of Western's classes require the use of a personal computer or laptop, standard software, internet access, and other technology-related items.
If you do not have a personal computer or laptop, or if the one you have does not meet the following criteria, resources may be available. Submit a Student Resource Request using our online form.
Computer/Laptop Hardware
Smartphones are not recommended for completing assignments.
Chromebooks are not recommended due to issues with installing software that is needed for classes, such as Office 365.
Web camera with microphone (usually built into newer laptops or can be purchased separately) is necessary for online participation.
Software Needs
For detailed specifications, please review Technology and Software Recommendations for Most Classes on Western's IT Knowledgebase.
Campus Resources
Need Assistance?
Contact the Learning Commons! The staff are happy to answer questions, provide individualized assistance, and direct you to other supports as needed.
The Diesel and Heavy Equipment Technician program is accredited by the National Automotive Technicians Education Foundation (NATEF).