Technical Diploma
As a diesel and heavy equipment technician, you'll help keep business and industry moving by diagnosing and repairing diesel engines, heavy trucks, and heavy equipment. Our hands-on program covers the power trains, electrical/electronic systems, chassis systems, brakes, and hydraulics of this equipment. Students learn the latest technology used in the industry. Our interdisciplinary approach draws from welding and general studies to provide a solid background for entry into the field through applied, general, and specialized training. Most students compete the course in 21 months. Graduates have excellent career opportunities in a secure and rewarding field.
Classes are held at Western's state-of-the-art Truck and Heavy Equipment Facility, located in La Crosse's industrial park, 2719 Larson Street. Check our interactive map for specific location information.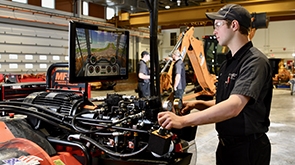 Diesel Technician
Diesel Mechanic
Field Service Technician
Fleet Mechanic
Heavy Equipment Mechanic
Living responsibly
Refining professionalism
Cultivating passion
Diagnose major systems in diesel and heavy equipment industry
Repair major systems in diesel and heavy equipment industry
Service major systems in diesel and heavy equipment industry
Practice personal and professional work habits
Document complaint, cause and correction
College Requirements
High School Transcript or GED/HSED
Program Requirements
Western Technical College uses ACCUPLACER, a computer-based, online assessment that measures your abilities in reading, sentence skills, and arithmetic. This information will be used to place you in courses that best fit your academic goals. Based on your scores, you may need to take additional general studies course(s) along with the general studies courses required for your program.
Several options for waiving the ACCUPLACER test are available; view the waivers here.
Learn more about placement tests and how they are used at Western: Placement Testing.
The Diesel and Heavy Equipment Technician program is accredited by the National Automotive Technicians Education Foundation (NATEF).