Associate Degree
Accountants are in demand in every business and industry. It may be a good fit for you if you are detail-oriented, like to have things organized, and have strong problem-solving skills.
Businesses rely on their accounting departments to provide a clear, concise, and accurate financial picture and use the information accountants provide to make crucial decisions. Accounting relates to all aspects of an operation, so the ability to work as part of a team is essential. Payroll, accounts payable and receivable, budgets, and financial reports are some of the responsibilities of an accountant.
The associate's degree program is designed for both the person looking for an entry-level position in accounting and the one who already has accounting responsibilities and would like to learn more. Instruction takes place in a traditional face-to-face environment, an online format, through interactive distance learning, or a blend of the formats. The Accounting After Hours program combines evening classroom instruction and online learning. Students learn accounting software, spreadsheet applications, and relevant technology.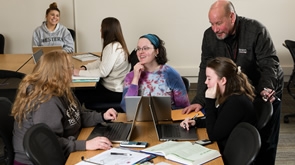 Accountant
Accounting Manager
Bookkeeper
Payroll Clerk/Specialist
Accounts Payable/Receivable Clerk
Cost Accountant
Tax Accountant
Living responsibly
Refining professionalism
Cultivating passion
Process financial transactions throughout the accounting cycle
Analyze financial and business information to support planning and decision making
Perform payroll preparation, reporting, and analysis tasks
Perform cost accounting preparation, reporting, and analysis tasks
Perform organization and/or individual tax accounting preparation, reporting, and analysis tasks
Identify internal controls to reduce risk
Most of Western's classes require the use of a personal computer or laptop, standard software, internet access, and other technology-related items.
If you do not have a personal computer or laptop, or if the one you have does not meet the following criteria, resources may be available. Submit a Student Resource Request using our online form.
Computer/Laptop Hardware
Smartphones are not recommended for completing assignments.
Chromebooks are not recommended due to issues with installing software that is needed for classes, such as Office 365.
Web camera with microphone (usually built into newer laptops or can be purchased separately) is necessary for online participation.
Software Needs
For detailed specifications, please review Technology and Software Recommendations for Most Classes on Western's IT Knowledgebase.
Campus Resources
Need Assistance?
Contact the Learning Commons! The staff are happy to answer questions, provide individualized assistance, and direct you to other supports as needed.