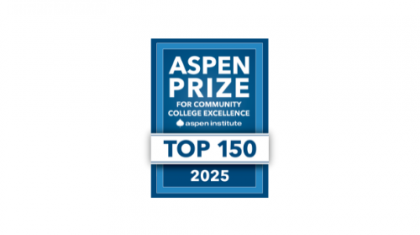 LA CROSSE, Wis., October 31, 2023 – Western Technical College was announced today as a 2025 Aspen Prize Top 150 Community/Technical College, and as such invited to apply for the 2025 Aspen Prize for Community College Excellence, the nation's signature recognition of community and technical colleges that are achieving high, improving, and equitable outcomes for students. 
The selection process is highlight competitive, evaluating measures of student success, including completion rates, employment and earnings, and equitable outcomes for all students. Western was previously invited to apply for the 2023 prize and was a top 25 semifinalist. The winner will be awarded a $1 million grand prize to be used for student retention efforts.
"To be invited to apply again for this award is such an incredible honor, and a testament to our work in improving lives and growing our communities," said Western President Roger Stanford. "We are actively focusing on improving our student retention efforts, including social and educational justice, embedded academic support, and faculty development. Just to be included on this list is truly special."
Western will work with groups across the college for the application process, gathering input and data from all areas to submit a formal application, which is due in December. The top 25 finalists for the 2025 Aspen Prize will be named in April 2024.