Distinguished Alumni Award Recipients
2020 – Chad Wehrs
1997 Machine Tooling Graduate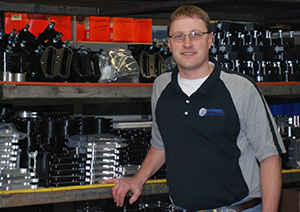 Chad Wehrs is the owner of Wehrs Machine and Racing Products in Bangor. He is a strong advocate for career and technical education in the area.
Wehrs has long had a passion for vehicles, a tradition that runs in his family. Since childhood, Wehrs was building vehicle parts in his father's garage. His passion continued through high school and into adulthood at Western Technical College, where he enrolled in the Machine Tooling program in 1995. Following graduation in 1997, he used his life savings to purchase equipment in designing and creating vehicle parts and products. He set up his business in the same building where his grandfather and brother began the Wehrs Chevy dealership in 1935. Today, Wehrs Machine and Racing Products provides vehicle parts for racers around the world.
After 23 years, his business remains strong and recognized throughout the world. As a proud Western alum, Wehrs employs several grads at his own business. He is passionate about technical education in our area, and is a strong advocate for Western Technical College.
---
Previous Recipients
2019 – Mao Kong
2018 - Bernadine "Bernie" Hornby
2017 - Robert Abraham
2016 - Diane (Forde) Raaum
2015 - Kyle Bakkum
2014 - Jeff Wieser and Brian Wieser
2013 - Mary Jo Klos
2012 - Rose and Lester "Mike" Levendoski
2011 - Joel Guberud
2010 - Harold Coppernoll
2009 - Lisa Thill
2008 - Richard Westpfahl
2007 - Debra Lash
2005 - Richard Walz
2003 - Terry Rydberg and Keith Steenlage
2002 - Mike Sexauer and Kathy Foust
2001 - Jeff Komay and Cinda Vingers
2000 - Don Jobe and Lynn Smyrk
1999 - Kevin Kobishop and Karen Long
1998 - Karl "Butch" Halverson
1997 - Jim Timm
1996 - Dick Fox
If you would like more information about the past recipients visit https://community.westerntc.edu/DistinguishedAlumni or please contact the Alumni Association at alumni@westerntc.edu or 608-789-6083.