Distinguished Alumni Award Recipients
2018 - Bernadine "Bernie" Hornby
​1980 Interior Design Graduate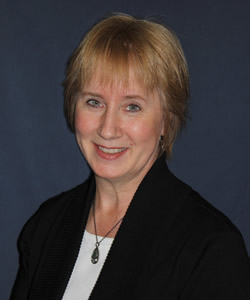 Western Technical College's Alumni Association awarded this year's Distinguished Alumni Award to Bernadine "Bernie" Hornby, president and chairperson of Vernon Electric Cooperative. This award recognizes dedicated service to the community or nation, leadership, personal growth and achievement, professional achievement, and contributions to the Western district.
Hornby, of Viroqua, is a 1980 graduate of the Interior Design program. Until 1986, she held interior design positions at A&C Johnson Co. and the Viroqua Home Center. From 1988-2001, she formed her own business, Wedding Day Bridal Services, which designed and coordinated rental products for wedding ceremonies. In addition to her professional career, she became a dairy farmer with her husband, David. They own a 320 acre farm and milk 70 cows.
Throughout her career, Hornby has served on a number of community organizations. From 1992-2012, she served as Treasurer for the Town of Franklin in Vernon County. In 2001, she was elected to the Vernon Electric Cooperative Board, serving as Treasurer until 2012, and from 2012-present, as president. In doing so, she became the first female president of an electric cooperative board in the state.
Hornby is also active in her local church, serving as president and secretary of WINGS Ladies Group, as well as a Sunday school teacher and youth group leader. She is involved with the Viroqua FFA Alumni, serving as secretary since 2010, and assists with purchasing and packaging food for elementary students who are in need of food over weekends. She is also a volunteer for the Vernon County Fair, working as needed at the event, and serving on the Fairest of the Fair Committee.
---
Previous Recipients
2017 - Robert Abraham
2016 - Diane (Forde) Raaum
2015 - Kyle Bakkum
2014 - Jeff Wieser and Brian Wieser
2013 - Mary Jo Klos
2012 - Rose and Lester "Mike" Levendoski
2011 - Joel Guberud
2010 - Harold Coppernoll
2009 - Lisa Thill
2008 - Richard Westpfahl
2007 - Debra Lash
2005 - Richard Walz
2003 - Terry Rydberg and Keith Steenlage
2002 - Mike Sexauer and Kathy Foust
2001 - Jeff Komay and Cinda Vingers
2000 - Don Jobe and Lynn Smyrk
1999 - Kevin Kobishop and Karen Long
1998 - Karl "Butch" Halverson
1997 - Jim Timm
1996 - Dick Fox
If you would like more information about the past recipients visit https://community.westerntc.edu/DistinguishedAlumni or please contact the Alumni Association at alumni@westerntc.edu or 608-789-6083.