Technical Diploma
Our Building Construction and Cabinetmaking program helps you build on your knowledge and develop your skills to prepare for employment in the fields of construction and cabinet making.
You'll study fundamentals of building design, site development, building layout operations, concrete applications, cabinet design and construction, and materials used in the construction and cabinet making industries. You'll be instructed in safe and proper use of hand tools, portable power tools, and stationary power equipment. In addition, you'll have the opportunity to apply framing, interior finishing, and exterior finishing techniques at actual jobsites, and work on commercial framing and finishing projects in the cabinet shop and framing lab. Related mathematics, blueprint reading, estimating, building science principles, and OSHA 10 are part of the training.
Graduates are ready for a variety of careers, including cabinetmaking, residential and commercial carpentry, general construction, working at building supply stores or lumberyards, and other positions in the construction industry.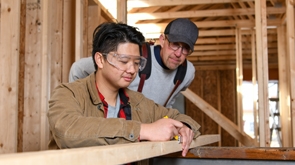 Carpenter
Cabinet Maker
Construction Crew/Foreman
Woodworker
Furniture Maker
Living responsibly
Refining professionalism
Cultivating passion
Use hand and power tools and equipment
Apply industry recognized safety practices and procedures
Analyze sustainable building practices
Interpret construction drawings
Interpret building codes
Demonstrate industry building practices and material application
Calculate the cost of a project
Recommend a plan of procedure to eliminate wasted time and materials
Demonstrate industry cabinetmaking practices and material application
Most of Western's classes require the use of a personal computer or laptop, standard software, internet access, and other technology-related items.
If you do not have a personal computer or laptop, or if the one you have does not meet the following criteria, resources may be available. Submit a Student Resource Request using our online form.
Computer/Laptop Hardware
Smartphones are not recommended for completing assignments.
Chromebooks are not recommended due to issues with installing software that is needed for classes, such as Office 365.
Web camera with microphone (usually built into newer laptops or can be purchased separately) is necessary for online participation.
Software Needs
For detailed specifications, please review Technology and Software Recommendations for Most Classes on Western's IT Knowledgebase.
Campus Resources
Need Assistance?
Contact the Learning Commons! The staff are happy to answer questions, provide individualized assistance, and direct you to other supports as needed.