Associate of Applied Science
Your interest in computer systems can translate into a career as a valued member of a technical team. In-demand network systems administrators install, maintain, troubleshoot, and upgrade computer networks to keep businesses operating smoothly.
Through this program you will explore both Wide Area Networks (WANs) and Local Area Networks (LANs). Other responsibilities could include installing and managing client and server software, enforcing account security, implementing backup and disaster plans, and protecting the network from malware.
Technical courses are taught with a combination of classroom study and lab work, and all students complete their studies with an internship.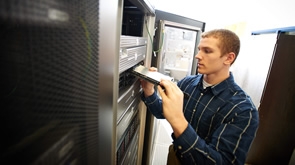 Network Administrator
Network Analyst
Unix/Linux System Administrator
Windows System Administrator
Living responsibly
Refining professionalism
Cultivating passion
Implement computer networks
Implement client systems
Implement server operating systems
Implement network security components
Develop technical documentation
Troubleshoot network systems
Maintain the network infrastructure
College Requirements
High School Transcript or GED/HSED
Program Requirements
Western Technical College uses ACCUPLACER, a computer-based, online assessment that measures your abilities in reading, sentence skills, and arithmetic. This information will be used to place you in courses that best fit your academic goals. Based on your scores, you may need to take additional general studies course(s) along with the general studies courses required for your program.
Several options for waiving the ACCUPLACER test are available; view the waivers here.
Learn more about placement tests and how they are used at Western: Placement Testing.