Automotive/Diesel Career Fair
Thursday, November 9, 2017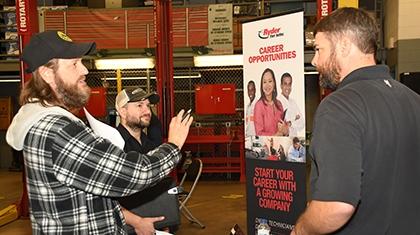 Location:
Vehicle Technology Center
Career Fairs are a chance for students and alumni to meet face-to-face with potential employers to learn more about their organization and the positions that they have available.  A personal connection can help you make a positive impression and differentiate you from other candidates. Don't miss out on the chance to connect with employers hiring in your field.  
Not sure how to prepare for the career fairs? These tips will help you turn a career fair into a job offer.
The following employers will be at the career fair:
Employer
Opportunities Available
Employer Website
Aring Equipment Co
Service Technician
www.aringequipment.com
Brenengen Autogroup
Automotive Technicians - Opportunities available at their Onalaska, Sparta, Tomah, and West Salem locations
www.brenengen.com
Brooks Tractor Inc.
Parts and Service Technician
www.brookstractor.com
Crown Lift Trucks
Auto and Diesel Technicians
www.crown.com/en-us/careers
CSM Companies, Inc./Wisconsin Kenworth
Diesel Mechanics
www.csmtruck.com
Dahl Automotive
Technician, Service Advisor, Parts Counter, Sales Consultant, Quick Lane Technician, and Detail
www.dahlauto.com/careers
DeBauche
Diesel Technicians
www.debauchetruck.com
JF Brennan
 Mechanic and Operators
www.jfbrennan.com
KAR Auto Group
Automotive Technicians
www.karautogroup.com
Kwik Trip
Automotive Technician, Diesel Mechanic, and Truck Washer
www.kwiktrip.com
Loves
Service Technician and Diesel Mechanic
www.loves.com
Morrie's Automotive Group
Automotive Technicians
www.morries.com
Pierce Manufacturing
 Automotive Electricians, Automotive Painters, and Assemblers
www.piercemfg.com/careers
Rihm Leasing Inc. 
Diesel Technicians
www.rihmkenworth.com/--leasing
River States Truck & Trailer
Diesel Technicians and Parts and Sales
www.riverstates.com
Ryder Transportation
Diesel Technicians
www.ryder.com
St. Joseph Equipment Inc.
Service Technician
Tires Plus
Service Technicians
www.bridgestoneretail.jobs
Tractor Central, LLC
Service Technician, Agricultural Service Writer, and Parts Sales
 
 www.tractorcentral.com
Ziegler
Diesel Mechanics, Parts/Warehouse, and Sales
www.zieglercat.com
Not sure how to prepare for the career fairs? These tips will help you turn a career fair into a job offer.