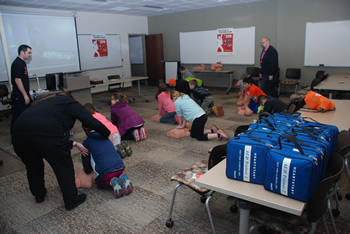 A morning spent with 200 excited 4th, 5th, and 6th graders, 80 tireless volunteers, and more sugary sweets than you can shake a stick at. Sound like chaos? It's not. It's Camp W!
Each year, Western Technical College Foundation, in La Crosse, WI., hosts Camp W, a youth-enrichment program designed for students in grades 4-6. It is held on a Saturday morning in the spring semester and lasts from 8:15 a.m. until 12:30 p.m. Classes are developed and presented by our volunteers and can include everything from building toolboxes to learning sign language, performing virtual surgery to dissecting a sheep eye, or just clowning around. And while some of the classes correlate to an academic program offered at the college, some are designed just for fun.
No matter which classes they choose, Camp W gives youth the opportunity to improve or discover new basic skills and explore special interest in a unique educational setting at a college campus. Each child can select three classes at a total cost of $24.00. Registration flyers listing the classes are sent to all the area schools in our district and they distribute the flyers to students in grade 4-6.