Associate of Applied Science
Put your critical-thinking skills to work as a business analyst. Our program teaches you how to effectively communicate with stakeholders and gather information necessary to identify business requirements and offer solutions, while recognizing opportunities for improvement. You will work closely with stakeholders to help steer the business on a pathway to success and profitability. As a graduate of this program, your skills will be in demand in many industries, including healthcare, manufacturing, insurance, and finance.
Classes are offered in a convenient online format with the working adult in mind. Whether you're looking to enter the field or expand your marketable talents, the Business Analyst program could be the key to your success.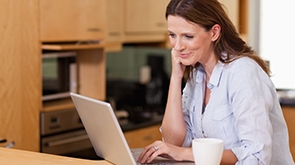 Business Intelligence Analyst
Computer Systems Analyst
Management Analyst
Operations Research Analyst
Information Technology Project Manager
Use effective communication skills
Apply mathematical concepts
Transfer social and natural science theories into practical applications
Demonstrate ability to think critically
Demonstrate ability to value self and work ethically with others in a diverse population
Use technology effectively
Make decisions that incorporate the importance of sustainability
Program Specific Requirements
Writing/English:
ACT: 19
COMPASS: 75
ACCUPLACER: 55
Reading:
ACT: 13
COMPASS: 60
ACCUPLACER: 70
Math/Pre-Algebra:
ACT: 17
COMPASS: 47
ACCUPLACER: 46