Technical Diploma
A broad overview of animal science, including reproduction and health, will prepare you for working with livestock in an animal management system. Areas covered include nutrition, ration balancing, heat detection, disease prevention, and artificial insemination. This program also explores the use of technology in the field.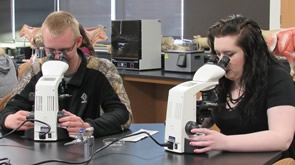 Agricultural and Food Science Technicians
First-Line Supervisors/Managers of Animal Husbandry and Animal Care Workers
Living responsibly
Refining professionalism
Cultivating passion
College Requirements
High School transcript or GED/HSED
Program Requirements
Western Technical College uses ACCUPLACER, a computer-based, online assessment that measures your abilities in writing/sentence skills, reading comprehension, and arithmetic. This information will be used to place you in courses that best fit your academic goals. Based on your scores, you may need to take additional general studies course(s) along with the general studies courses required for your program.
Several options for waiving the ACCUPLACER test are available; view the exemptions here.
Learn more about placement tests and how they are used at Western: Placement Testing.