Associate Degree
With the right skills and a positive attitude, you can be indispensable! As an administrative professional, you will have a variety of responsibilities to help an office run smoothly. You would be a good communicator with excellent computer skills who enjoys working with a variety of people, and willing to take on whatever challenges come your way. In this career, you could be planning events, creating presentations, making basic spreadsheets, formatting business correspondence, or training others on computers or software.
Students learn the latest office technology, develop communication skills, learn database and spreadsheet functions, and are introduced to basic business principles. Field experience is part of the curriculum.
Courses are offered in a convenient online format.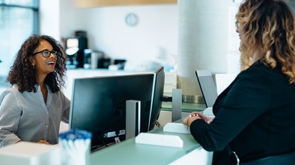 Administrative Assistant
Executive Secretary
Office Assistant
Receptionist
Office Associate/Assistant
Secretary
Living responsibly
Refining professionalism
Cultivating passion
Demonstrate effective workplace communications
Apply technology skills to business and administrative tasks
Perform routine administrative procedures
Manage administrative projects
Manage internal and external relationships
Model professionalism in the workplace
Most of Western's classes require the use of a personal computer or laptop, standard software, internet access, and other technology-related items.
If you do not have a personal computer or laptop, or if the one you have does not meet the following criteria, resources may be available. Submit a Student Resource Request using our online form.
Computer/Laptop Hardware
Smartphones are not recommended for completing assignments.
Chromebooks are not recommended due to issues with installing software that is needed for classes, such as Office 365.
Web camera with microphone (usually built into newer laptops or can be purchased separately) is necessary for online participation.
Software Needs
For detailed specifications, please review Technology and Software Recommendations for Most Classes on Western's IT Knowledgebase.
Campus Resources
Need Assistance?
Contact the Learning Commons! The staff are happy to answer questions, provide individualized assistance, and direct you to other supports as needed.